Nurcan Baysal: being a Yazidi means to be destined for massacre

1
Working for NGOs for years, Nurcan Baysal wrote a book for giving voice to women and not letting that horrible massacre to be forgotten. "73rd Decree" ("Ezidiler: 73. Ferman Katliam ve Kurtuluş") is heavy, but it is nothing compared to what women, men and children had been experiencing.
By Nazan Özcan
"In 21st century, humanity is strangled and the world watched it live. It is winter now. The weather must be cold. No cloths. No heater. The real 'major thing' has passed now. I won't starve to death. I won't die from the cold either. But the children are starving. Don't forget and don't let it be forgotten." This is what a Yazidi, who came to Diyarbakir Camp after ISIS attacked Yazidis in Sinjar on August 3, 2014, said to Nurcan Baysal. We talked to Baysal about her book on Yazidis.
What is the thing that Yazidis call "decree"?
In their spiritual world, decree refers to massacre, slaughter. In 21st century terminology, it means genocide.
Is there any difference between the 73rd decree started on August 3, 2014 and the others?
There are many differences. One of them is the fact that Yazidis are massacred in 21st century for all the world to see. There have been slave markets where women are sold and this still continues. Second difference is that, the decrees hadn't caused a transformation in the spiritual world of Yazidis up to now. I mean, these decrees were accepted as a result of being Yazidi. However, with this decree, Yazidis started to think about the decrees thanks to Yazidi diaspora and Kurdish movement. Yazidis have been on earth since the world began and they have a social order that haven't been changed for tens of thousand of years. Yazidis hadn't revolted against previous decrees. However, now, Yazidi Defence Units are formed in Sinjar. This is a first. Moreover, Yazidi society is patriarchal and women have always remained in the background, but women also fight in these defence units.
Yazidis took shelter both in Kurdistan government and in Turkey. You visited the both regions. So, are there any differences?
In some villages in Sinjar, Yazidis and Arabs had been living together. Before ISIS enters some villages, Arabs in those villages joined ISIS. Some people said that their neighbors held their wives and children as captive. In fact, being a Yazidi means to be destined for massacre. Suddenly, their neighbors became ISIS members. This is the desperate aspect of the situation. At the beginning, 5000 people were massacred in the villages. These figures are not exact; new mass graves are found. On November, Sinjar was liberated and it is said that there are almost 100 mass graves. Hundred of thousands Yazidis headed to Mount Sinjar. It was August; the weather was unbearably hot. Mountains were cold during the night and ISIS was after them. 250-300.000 people ran to Zaho and Duhok. On September 2014, I went to the camps on the south. People were living in construction areas; you found out that there are 300 Yazidis in an area. Babies, children, elderly people. The ones left behind had no chance to be rescued. They entered Turkey illegally through Roboski. At that time, municipalities of Batman, Şırnak, Nusaybin and Midyat began to build camps. Suddenly, the municipalities became responsible for taking care of 35.000 Yazidis.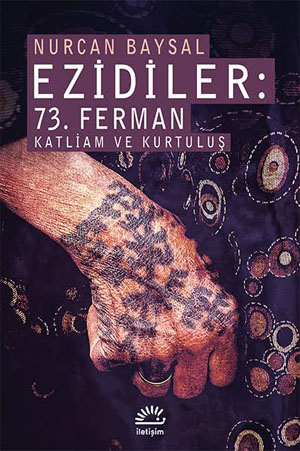 In the book, we realize that people hold off from talking about what happened in Mount Sinjar. What happened there?
During the interviews, they avoided my questions about the mountains. There was a single purpose on the mountains: surviving. Let's say you have only a slice of bread and you didn't share it and a child died because of that. A Yazidi said, "People lost their human feeling on the mountains." There were people who committed suicide; some women jumped off a cliff after killing their children by throwing them off the cliff. Or, for instance, people you love wants water from you, but you cannot give it to them, because you will give it to your children. Some of the families I saw put the plastic bottles on the wall; they said that they will keep them until they die. They gave water to their children with bottle caps. For instance, they couldn't have buried the deceased on the mountains. Some of them left their old mothers and fathers behind. They begged for not being left behind. They will live with this shame and guilty conscience for the rest of their lives.
Kurds were the first ones who welcomed and protected Yazidis. However, as far as I understood from the book, this was not an easy process.
Yazidis have been subjected to decrees by many communities, most of them being Muslims. So, their biggest fear is Muslims. And they had to lean on them. For instance, in Diyarbakir camp, when they tried to make the children work out, they got angry thinking that they were teaching them performing prayer.
They are Kurdish too, but culturally different, right?
Young people from Kurdish movement tried to treat them equally, but Yazidis are completely different. They have a rigid caste system. People from different castes were waiting on the some food line! It is a very patriarchal community. Women are almost never mentioned and dependent on men completely. For instance, Yazidi men brought down the education tent that we built for women. We spent months for finding that tent! Young people from Kurdish movement said that there will be equality of women and men in governing. There were two problems. Members from different castes had equal vote. And they couldn't have accepted women's voice in governing. After compromises, we made a progress. Kobani affected Yazidis deeply. Kurdish women and men were fighting to death together. Patriarchy isn't broken completely, but it is bent. Now we see that there are young Yazidi women fighting in Sinjar and understand that there was a revolution.
Did Turkish state help Yazidis?
Turkey hasn't given a statues to Yazidis. At that time, Turkey didn't build camps for Yazidis. Suddenly, 35.000 Yazidis came. Turkish state said that they will build camps on the south of the border, but it didn't happen. Turkey failed in helping Yazidis. I think there are two reasons for this. Firstly, they don't like Yazidis. I remember that Erdoğan saying "Kurds are Yazidis." They are not Muslim and it is a problem for them. Secondly, they thought that Kurdish municipalities won't be able to handle the situation and will go down. For the Turkish state, this would serve well politically. Now, we cannot receive any information from AFAD's (The Disaster and Emergency Management Authority) camp in Nusaybin. At the beginning, there were 35.000 people and now, there are 1400 Yazidis in Diyarbakir and 400 in Şırnak. Around 2000-3000 people were in the camps. Most of them went to the south. Around 1000 people, most of them being the raped women, managed to go to Germany. Some of them went to Istanbul and some of them are in Bodrum, waiting for a boat.
"Eventually, everyone finds peace, except from women"
You describe this decree as "something beyond death for women". What does it mean?
Women in camps didn't talk much; and when they talk, they talk about women who committed suicide. For instance, they hear a cry from a tent. They go there and find out that a mother is crying because her daughter killed herself. ISIS has still 5000 women captives. They sell those women, because they can. There are slave markets, because there are people who go and buy human beings from those places. Women are being sold, because there are states which support such a trade. Main buyers are Syria, Lebanon, Qatar, Kuwait, Saudi Arabia, Pakistan and Afghanistan. Those states were able to do something, but they didn't do anything.
And because of their culture, the families didn't want those women.
Baadre village near Mosul is the largest Yazidi village, which turned to a place where women who are escaped or rescued from ISIS take shelter. I spoke to women there, who were held by ISIS. There was a young woman called İlwin, who was held captive in Raqqa for 2 months. She was raped for several times, tortured and beaten. İlwin somehow managed to get in touch with her brother and saved 7 Yazidi women along with herself. Their families paid money to ISIS for taking them back. And those 7 women met with their families in Viranşehir province of Urfa. İlwin kept saying, "Write down what I told, bring me to the court; I want to tell what happened to the world."
Many women were abandoned to their fate: they were forced to get married or sent to Sinjar for dying. Once again, women are the ones who suffer most.
There is a rule in Yazidi society: when a Yazidi has sex, voluntarily or involuntarily, with some who is not a Yazidi, that person is no more a Yazidi. Women who were raped by ISIS members knew this; they killed themselves because they knew that their society won't take them back. It is said that thousands of women killed themselves. There is a women's shelter in southern Kurdistan and there are 7000 women. Yazidi religious leaders made declarations urging the families to take those women back. Some families did it, some of them didn't. For instance, I saw a long queue in Laleş. They said that there is a wedding ceremony. They made women who held captive by ISIS get married to Yazidi men. Of course, they didn't got women's consent. So, eventually, everyone finds peace, except from women.
ISIS still holds many women as captives, right?
Yes. For instance, some women gave birth to children that they conceived after being raped. The ones who tried to have abortion, which is not a legal right, died. Mothers and daughters were taken as captives and raped. They also sell young boys. For instance, in a mass grave, there were women older than 40. ISIS members find them too old and bury them alive. Now, it is said that there are over 100 mass graves, which are not opened yet. In a grocery shop in Mosul, they put a picture of a 14-years-old girl who is on sale. There are many slave markets. It is not difficult to prevent such things. These things are happening one or two hour drive away from us.
"Bodies of the deceased have never been left on the streets before"
You live in Diyarbakir. What is the current situation there?
Today is the 57th day of the curfew. We cannot go to the city center. Sur was the heart of the city and it can be said that the city doesn't exist anymore. In 6 neighborhoods under curfew, the population was around 25.000 and now, it is around 5000. In other neighborhoods, people live under a virtual curfew. There are clashes everywhere. A woman living in the building next to my office is injured. Where do these bullets come from? Lately, there are two different reports on Diyarbakir; locals are very disturbed by this. Who sleeps well, who is happy, who smiles? If someone goes to a cafe, does this mean that this person is happy? A city is in ruins, a city is destroyed; who can be happy under such a condition? They use cannonballs, bombs. People are frightened. I keep writing about the deceased. Now, there are the bodies of the deceased in the places where we used to have coffee. Sometimes, people compare this situation to '90s, but I think that it is worse than '90s. In '90s, there had been murders by unknown assailants, but we knew about the state. Now, we cannot tell from where the bullets will come. There are civilian casualties, but the state doesn't accept that. In my town, 48 people were killed.
And in '90, taking the bodies of the deceased are not that hard, I guess.
Last week, we managed to take the bodies of 21-years-old university student İsa Oran, who came to Sur from İzmir, and 25-years-old Mesut. Both were the members of YDG-H. Their bodies remained on the ground in a schoolyard for 29 days. We and İHD (Human Rights Association) tried really hard to take the bodies. A week ago, families got a phone call from the prosecutor's office and they were told that the bodies are taken to the mortuary. We were with the families. İsa's body was ripped. His head was looking like it was burned with a chemical substance. His father identified him by his arm. Mesut died because of 3 bullets; 2 in the head, 1 in the chest, However, there were more than 100 bullets in his body. We keep talking about '90s, but there will be longer and more intense talks about 2010s. Bodies of the deceased have never been left on the streets before. Before, they were putting people in mass graves and now, they are leaving them on the streets for teaching a lesson.
You are working with aid agencies. What are the urgent needs?
Rojava Foundation is completely focused on Sur. They try to reach everyone, from İdil to Cizre, who had to leave their houses because of the war. There are innumerable needs. The ones who can find a carpet or heater are the lucky ones. Sarmaşık Foundation distributes food. However, there are families who cannot leave their houses and have been living in a single room for 57 days; they are starving. Now, locals of Diyarbakir feel ashamed of surviving.
*As published in Agos on 02.01.2016